Line 16:
Line 16:
 

She has one brother, Robby, and two sisters, Carrie and Lori. She had a younger sister who died in 1987 at the age of three from an unidentified illness (which later inspired her to write the songs "Hello" and "Like You" about her). Lee's family moved to many places, including West Palm Beach, Florida, and Rockford, before finally settling in Little Rock, Arkansas, where Amy and [[Ben Moody]] met and after starting a friendship co-founded [[Evanescence]].

 

She has one brother, Robby, and two sisters, Carrie and Lori. She had a younger sister who died in 1987 at the age of three from an unidentified illness (which later inspired her to write the songs "Hello" and "Like You" about her). Lee's family moved to many places, including West Palm Beach, Florida, and Rockford, before finally settling in Little Rock, Arkansas, where Amy and [[Ben Moody]] met and after starting a friendship co-founded [[Evanescence]].

 
 
 
⚫
 
 
 
+

<gallery type="slideshow" widths="362" position="left">

−
 
 
+

Amy 3.jpg

⚫
 
 
+

Amy 2.png

 
+

The Open Door.jpg

 
+

Fallen.jpg

 
+

Amy frontpage.png

 
+

GoingUnder.jpg

 
+

Evanescence.jpg

 
+

Amy Lee 5142.jpg

 
+

</gallery>
---
Revision as of 15:03, 16 October 2011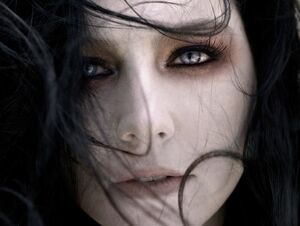 Amy Lynn Hartzler (née Lee; born December 13, 1981 in Riverside, California), is an American singer-songwriter and classically trained pianist. She is the co-founder and lead singer of Evanescence.
She worked on every single Evanescence song.
During the Fallen Era she composed and wrote songs along with Ben Moody among other (little) collaborations with other people. In the The Open Door Era, Terry Balsamo was her biggest writing and production partner. Now, in the Evanescence Era, she writes and produces with the band in a whole.
Biography
Amy was born to parents John Lee and Sara Cargill.
She has one brother, Robby, and two sisters, Carrie and Lori. She had a younger sister who died in 1987 at the age of three from an unidentified illness (which later inspired her to write the songs "Hello" and "Like You" about her). Lee's family moved to many places, including West Palm Beach, Florida, and Rockford, before finally settling in Little Rock, Arkansas, where Amy and Ben Moody met and after starting a friendship co-founded Evanescence.
She briefly attended Middle Tennessee State University to study music theory and composition and later dropped out to focus on Evanescence.