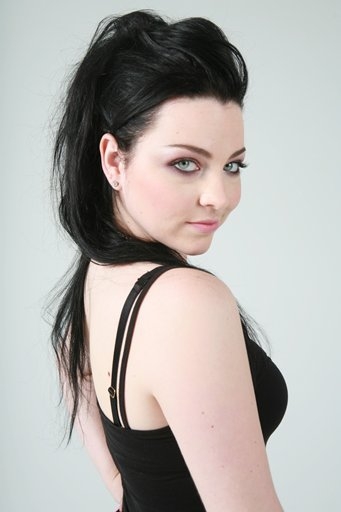 Amy Lynn Hartzler (née Lee; born December 13, 1981 in Riverside, California), is an American singer-songwritter and classically trained pianist. She is the co-founder and lead singer of Evanescence.
Biography
Lee was born to parents John Lee and Sara Cargill. She has one brother, Robby, and two sisters, Carrie and Lori. Lee had a younger sister who died in 1987 at the age of three from an unidentified illness. Lee's family moved to many places, including West Palm Beach, Florida, and Rockford, before finally settling in Little Rock, Arkansas, where Lee and Ben Moody co-founded Evanescence.
She briefly attended Middle Tennessee State University to study music theory and composition and later dropped out to focus on Evanescence.
In an interview on AOL Music, Lee said that the first songs she remembered writing were called "Eternity of the Remorse" and "A Single Tear". The first was written when she was eleven years old and wanted to become a classical composer, and the latter was for an assignment when she was in the eighth grade.
Evanescence
Lee co-founded Evanescence with guitarist Ben Moody. Lee and Moody met each other at a youth camp after Moody heard Lee playing Meat Loaf's "I'd Do Anything for Love (But I Won't Do That)" on a piano. Within a month, the pair were playing acoustic sets at Arkansas book stores and coffee houses, and they eventually recorded two EPs, Evanescence EP (1998) and Sound Asleep EP (1999), selling them at various local venues. In 2000, Evanescence recorded Origin. The demo contains three songs from the debut album Fallen and was written by Lee and Moody: "Whisper", "Imaginary " and "My Immortal ". Whereas "Whisper" and "Imaginary" were altered before being included on Fallen, "My Immortal" is virtually unchanged. A later band version of "My Immortal" was made available for download for those who had bought an official version of Fallen through their web site, but required that a CD checker program also be downloaded for verification before it would play. The band version was included on later copies of Fallen, notably the Brazilian, Bolivian, and Argentine editions.
Discography
Evanescence
Community content is available under
CC-BY-SA
unless otherwise noted.