Broken Record refers to the original project for Evanescence's third album that was scrapped by the band's label.[1][2] This unreleased album was produced by Steve Lillywhite, with co-production by Will "Science" Hunt.[3] Recording sessions took place at MSR Studios in New York from February 22, 2010 to April that same year.[4] The album was due for a Fall 2010 release.[5]
Background
[
]
In July 2009, Amy Lee confirmed she was working on the follow-up to 2006's The Open Door:[6]
We're currently working on new material that I'm extremely excited about. I believe that to make great music you have to give yourself the freedom to evolve. I don't see the point in making the same record twice, so I always want to challenge myself to make something better, stronger, and more interesting than before.
Later that year, she indicated the new music would be influenced by Portishead, Massive Attack, and be less focused on guitars and more on programming.[7] She had a meeting with her label to show the album's demos and was then given the green-light to start recording.[8][9]
When the band entered the studio in 2010, Amy said the album would contain a "rainbow of sounds" with some songs amazingly heavy and others completely stripped down.[10] She also revealed that she and Will had crafted and recorded much of the electronic programming that was to be used in the record.[11] The band were also aiming "to take synthetic and atmospheric sounds and find a way to blur the line between organic and synthetic", adding "it sounds larger than life."[12]
There's a lot of stuff that doesn't sound like Evanescence, but the heart of the band is still there. This is a really, really, rhythmically driven record. So there's tons of drum-programming fused with live drums; drums we're renting a day at a time, like Japanese taiko drums.[11]
For the album's lyrical content, she said:[10]
I write about what I'm going through at the time. There are moments of, "Hey, I'm over it and I'm good" and others of fun sarcasm like, "Hey, everything's not the most dramatic thing in the world." But it gets really, really, really deep in places, too. That's probably why it's been really hard to pick an album title. [Laughs] But lyrically, it's a more real version of myself. I'm saying things that I would've been afraid to say before. I'm more confident and more comfortable.
She also expressed her excitement about the new material:[5]
I can't expain how excited I am to make this record. Over the past year and a half these songs have become the center of my life, and I can't wait to hear what they grow into in the studio. I think our sound is evolving into something that will surprise people, in a very good way. I feel, as always, that growth can be an incredible, limitless thing if you let it. I never want to make the same album twice.
After just over three weeks in the studio, she said she felt "like I'm making the best album of my life", adding:[12]
I know that seems weird to say, but I wouldn't be here in the studio making another record if I didn't think it was going to be better than anything I've ever done. I feel like so much has already happened. I don't even know where to begin to try to describe it...'cause it's just so many things at once. I'm really excited. It wouldn't be an Evanescence album if it didn't sound somewhat like Evanescence. I feel like our band has always had programming and inspirations from Bjork and Depeche Mode and Massive Attack and that kind of thing. It's not like we're making one of those records; it's just, like, that is playing a bigger role in the sound of Evanescence this time. Those little nuances and hints come in in ways that are cool.
Lillywhite described the album as "a great combination of real instruments and synths."[13] On October 5, 2010, drummer Will Hunt suggested the album was still going in the electronic direction after the recording sessions were suspended in April that year:
"It's always going to sound like Evanescence, 'cause it's Amy Lee singing, but the vehicle for that voice can be different and still be Evanescence. I think people are gonna be pleasantly surprised, because all the really cool elements, the things people love about the Evanescence of the past are still there. But there are new colors in the pattern. There's a lot of cool new things going on, both electronically and futuristically. I think she's doing something that's very special and hasn't been done before. I'm a supporter, I think it's killer."[14]
Timeline
[
]
February
[
]
22 - The band entered the studio.[11]
25 - Amy posted a photo of Will "Science" tracking percussion.[15]
26 - Drums and percussion are still being recorded.[16]
March
[
]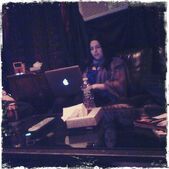 April
[
]
I wanted to let you guys know that we've decided to take a little time out of the studio to work more on the music. There is more that I want to do and I want to make this album the best it can possibly be, so I'm not going to rush it. It means too much to me. Taking a breath, digging deeper into myself, and moving forward with even more strength than before. Like I've always said, good things take time! ;) I'll keep you posted, talk to you soon…[32]
Songs
[
]
It is known that the band worked on 16 songs in the recording sessions with Lillywhite,[33] though he claimed 12 songs were recorded,[34] but only three were reworked on the final third album.[35][1] Others made it to other releases, while some remain unreleased to date.
Statements after the sessions were stopped
[
]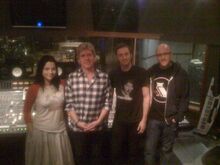 After the band left the studio in 2010 and started working with Nick Raskulinecz the following year, Amy has made statements about the initial sessions for the album, which she stated she realised it was more of a "solo album" rather than a "band album."[39]
It wasn't [sounding] right. I was about halfway through figuring out what I wanted the record to be, and I had a bunch of songs and was really excited. It more ethereal, more programming-based, more synthetic and cool - a lot of the elements are still a big part of this record. But it fell apart. Things weren't sounding right, I didn't know why and it was really hard for me. Now that I'm over a year away from it, I can look back and say, "I'm so glad that happened." We kept working and I got some clarity on what I wanted to do next, which was to get the band involved. I felt pretty lost for a while, but I knew that we were doing the right thing, because it kept getting better.[40]
Terry told in a interview in late 2011:
"The label wanted the full-on regular Evanescence record and [Amy] was at the time trying something different and then it was like, 'oh, give us an Evanescence record.' Once the material started getting turned in, I think the label was like, 'this isn't Evanescence.'"[2]
In 2015, after Amy was out of her record deal, she revealed her label rejected the album she originally intended to release as Evanescence's third album:[1]
That album was the first time I watched something I was working on totally blow up in my face. The suits had a change of heart during a frustrating recording process and I was told that none of the songs I'd been pouring my heart into for a year, in any form, were good enough- time to start over. I was devastated. I was furious. I was determined to take control of the situation and use it to push myself forward. It ended up making me angry enough to write Evanescence's heaviest album- which I love- and we did end up using 3 songs from the original project, but I was still left feeling unsatisfied about what I lovingly refer to as my "broken record." I've believed, mostly alone, in this damaged little handful of unfinished recordings for 5 years- and for the first time, I own them. I plan to finish some, re-do some, and probably keep a couple to myself.
Producer Steve Lillywhite also talked about his work on this scrapped album:[41]
I did some work with Evanescence a couple of years ago. I was very proud of what we did, but the record company decided it sounded not like Evanescence. It seemed like Amy Lee wanted to change her style so that's what we were trying to do because I didn't really think the world really needed another Evanescence record. It's like saying, "Limp Bizkit! Yeah, let's make another Limp Bi-!" No one cares!
In another interview, he said:[42]
With Evanescence, I suppose that I was interested in the idea of Amy [Lee] as a great artist. When I was involved there weren't really many band members involved, so the record was a really interesting combination of electronic sounds, but it didn't have any power chords. I like that. Very rarely do you hear any power chords on records I've made. I suppose I was interested in seeing how she could take her music in a new direction. Maybe I was wrong, but I was thinking, "Does the world really need another Evanescence album that sounds like Evanescence?" I don't know — maybe it did. But what happened was a few people lost their nerve. I don't even think it was her. It was people at the record company who really had no other band. They were thinking more in terms of the commerce rather than the art.
When news broke that Amy was suing her label in January 2014,[43] Lillywhite made the following statements on his Twitter account:
I will back her up for sure. I believe the record I was working on was far better than what they forced her to release! [...] that is a fact which I will testify to in court! [...] I remember them thinking it didn't sound enough like "Evanescence" which is why I was let go.[44][45][46]
He further said he was willing to finish the album with Amy, saying "if she wanted to finish those songs."[47]
References
[
]