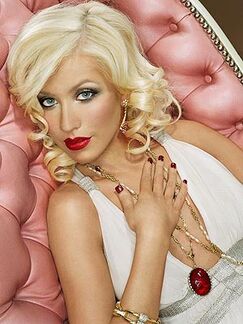 Multi-platinum artist and a guilty pleasure for
Amy Lee
. Lee has said she does not appreciate Christina's sexpot image, but on occasion sings along to Aguilera's
Stripped
to warm up for concerts. On YouTube, a user uploaded a video of him and Amy singing "Reflection" with their high school choir in 1999.
Carrie Lee's (Amy Lee's younger sister) fascination with pop stars such as Britney Spears and Christina Aguilera was the inspiration for the song Everybody's Fool.
In February 2006, there were rumors talking about a duet with Christina Aguilera and Amy Lee in the song Blue Eyes. Later, it was discovered that this Amy Lee is a saxofonist, ex-member of the Coral Reefer Band.
This is what she had to say about Amy Lee:
"I read somewhere that that Evanescence chick [singer Amy Lee] said 'Christina says she's promoting feminism, but sticking up for females is the opposite of what she's doing'. It's like, first of all, from what standpoint or veiwpoint, you know? And second, just because I don't like to wear dark, covered-up things all the time..." She trails off laughing "That's just not me. You be a woman in your veiwpoint,and I'll be a woman in mine."
Community content is available under
CC-BY-SA
unless otherwise noted.