"Lost in Paradise" is the seventh track on the self-titled album, Evanescence. It was released as the final single from the album in May 2012. A reworked version was released on the band's fourth album, Synthesis.
Background
[
]
Amy has said many times that she has a special connection with this song:
"That song is just really raw... that's a song that has no censorship, like I was in a place where I was like "yeah, I don't know what's going to happen, and I can't save the day and act like everything is perfect"... the lyrics on that one kinda came fast and that's sorta what happens when you're not thinking so hard... I love it because it's vulnerable and sometimes, I guess it's hard to me to just totally get vulnerable, it's like I always want to be strong... sometimes the hardest thing is not trying so hard."[1]
Amy also had this to say about the song:
"I'd say this is the most intimate song on the album. Really, it was from that kind of hard time in 2010 where I felt lost and sort of like I lost my vision for a second.
And it's cool because the song is sort of almost an apology to the fans, for being gone. It's like 'Here's how it went, I needed to run away'. But I miss this, and it's hard and it's painful sometimes and it's this big giant mess of things. But it's me and it's my heart and it's our relationship and... Yeah, I want it back."[2]
Originally, the song was just piano and vocals and Amy considered not putting on the album and keeping it as a B-side. However, after showing the song to Nick Raskulinecz (the self-titled album's producer), he requested the band record the song for Evanescence. Amy credits Raskulinecz for the idea of the full band joining in mid-way through the song.[3]
In 2017, the song was chosen to be reworked on the orchestral album Synthesis.
Music video
[
]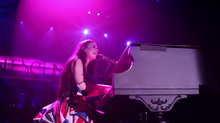 The music video for "Lost in Paradise" is a compilation of live videos recorded by fans during their Evanescence tour.
Amy explained that they didn't have a big budget for a new video, but she really wanted to make a video anyway even if it wasn't given an official release.[4]
Commercial release
[
]
The digital single was released on May 25, 2012.[5] This is the tracklist:
"Lost in Paradise"
"Lost in Paradise" (Live)
"My Immortal" (Live)
Amy told in an interview that she wasn't aware of the digital single's release, saying "the label's doing whatever it wants", and she didn't agree with the inclusion of the live version of "My Immortal". She added she'd rather releasing new music, but the label didn't ask her whether she could release it or not, referring to the material originally recorded in the album's initial sessions but scrapped at the label's behest.[6]
Lyrics
[
]
I've been believing in something, so distant
As if I was human
And I've been denying this feeling of hopelessness
In me, in me


All the promises I made
Just to let you down
You believed in me but I'm broken


I have nothing left
And all I feel is this cruel wanting
We've been falling for all this time
And now I'm lost in paradise


As much as I'd like the past not to exist
It still does
And as much as I'd like to feel like I belong here
I'm just as scared as you


I have nothing left
And all I feel is this cruel wanting
We've been falling for all this time
And now I'm lost in paradise


Run away, run away
One day we won't feel this pain anymore
Take it all away, shadows of you
'Cause they won't let me go


So I have nothing left
And all I feel is this cruel wanting
We've been falling for all this time
And now I'm lost in paradise


Alone and lost in paradise
Credits
[
]
Amy Lee - vocals, piano, lyricist, songwriting
Terry Balsamo - guitar
Troy McLawhorn - guitar
Will Hunt - drums
Tim McCord - bass guitar
David Campbell - strings arrangement
Antoine Silverman - strings contractor, concertmaster
Randy Staub - mixing
References
[
]
• home •

Songs

Pre-Fallen Material

Mystary EP (2003)

Origin (2000)

Whisper/Sound Asleep EP (1999)

Evanescence EP (1998)