"Perfect Dream" is an unreleased song by Evanescence. It was originally recorded in the initial sessions for the band's third album with producer Steve Lillywhite in 2010. However, the song along with the material recorded during that time was scrapped by the label because they thought "it didn't sound like Evanescence." Amy Lee confirmed she owns those unfinished recordings and plans to finish some, re-do some, and keep others to herself.[1]
Background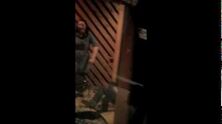 On March 19, 2010, the song was teased on a Twitter video named "Stompin' Steve" in which Amy Lee, Chad Copelin and Lillywhite dance to it and record stomp percussion.[2] She later revealed the song title on EvClub and gave more details about the song. She and Lillywhite discussed the stomp used in the track on his radio show, East Village Radio:[3]
Steve: Ah! The stomping! Well, that's about me, that's nothing to do… Steve's stomping…
Amy: No, it was pretty funny! Well, that's us in the studio. I mean, I wonder if they know what we were doing.
Steve: We were doing some, some stomping, uh…
Amy: A stomp track.
Steve: A stomp track.
Amy: To, like, effect and filter and make into a really cool, like, beat.
Steve: Right. And I was stomping, we had to stomp on the beat. Now, I realized...
Amy: *laughs*
Steve: As I was, see these are all these thoughts that are all gonna happen within a split second, but as I was jumping up I realized I'm a little ahead of the beat… so I need to hold, I need to slow…
Amy: I need to defy gravity and stay in the air longer and that doesn't work. *laughs*
Steve: Exactly! That's what I was trying to do! And all these split second decisions happened in my mind that actually ended up me, falling over, and uh…
Amy: It was priceless.
On December 22, 2021, a hacker claimed he has a folder with Broken Record songs and other unreleased/scrapped material, and that "Perfect Dream" is finished and has "weird guitars" on it. No snippets were leaked.
Lyrics
Reaching above, so high above
My perfect dream
Reference
• home •

Songs

Pre-Fallen Material

Mystary EP (2003)

Origin (2000)

Whisper/Sound Asleep EP (1999)

Evanescence EP (1998)