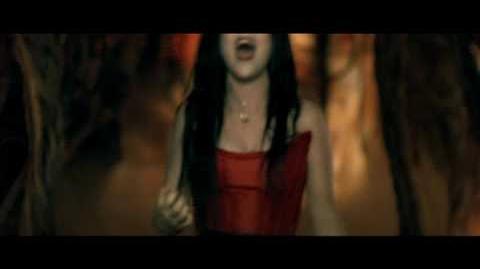 The music video for "
Sweet Sacrifice
" directed by
Paul R. Brown
, was filmed in Burbank, California between March 9 and March 10, 2007. The music video leaked onto the Internet on April 4, 2007, after briefly being available for digital download on iTunes Store. It initially premiered on Yahoo! Music on April 5.The video was compared with the psychological thriller film directed by Tarsem Singh, called The Cell (2000). Lee said that the main inspiration is "like we're in the walls of our minds, sort of" During an interview with MTV News, she further revealed the concept of the video, "It's mostly live performance. It's not so much fluff and flying and tricks and wolves and stuff. It's more really just about the song, and that is unique for us. We usually do crazy stuff. It's gonna be sort of like a video within the video. Since the song is our heaviest single, we really wanted to focus on mostly performance but still have something about it that's really unique. And I think [Paul] really hit the nail on the head." The video starts with Lee laying on a couch and as the song progresses, she starts singing the lyrics "It's true, we're all a little insane, but it's so clear now that I am unchained" while getting up from it. She wears a red dress and a red make-up on her face. Later another scenes, show her singing in a room similar to the thriller The Cell, while the band is performing in another room.
Community content is available under
CC-BY-SA
unless otherwise noted.