The Bitter Truth is the fifth studio album by Evanescence, released on March 26, 2021 via BMG. Songs were released one at a time as the album was still being written and recorded.[1][2]
The album cover, title, and first single, "Wasted On You", were revealed on April 17, 2020 on the band's social media.[1]
This is the band's first album of all-new material in a decade.
Background
After releasing Synthesis, Amy Lee said the next album would go back to its rock roots[3], suggesting it would be raw and focus on the band,[4] and may feature leftovers from the band's two previous albums, Evanescence and Synthesis.[5] Writing sessions began between the 2019 tour dates.[6]
In December 2019, Amy indicated the new material was "dark and heavy" and had "The Open Door vibes but not the same" in terms of it having "weird and sparse" moments.[7]
The band aimed at working with different producers every time they hit the studio.[3] They recorded the first four songs of the album with Nick Raskulinecz. To ensure a diverse sound they aimed at working with a different producer on songs in the vein of their 2006 album, The Open Door, and "electronic, weird, mid-tempo world."[8] This, however, didn't happen due to the pandemic and turned Raskulinecz into the album's sole producer.
In May 2020, Amy said the new songs are in a "place that's even more raw", adding they are "all different" from each other.[9] On the album's sound, she said:[10]
"One of the things that we've been kind of aiming towards is taking the elements of what maybe are things that make up our sound and try to separate them and give each of them their own space. So some of the songs don't have strings and are fully rocking and heavy. And then some of the songs might be really in the electronic zone, and something might be more on the orchestral side. But overall, it's gonna be a rock record."
She added she would like to give the album a "color wheel".[11] "With this album, we are offering a full palate. One of the things we were aiming at was taking apart the individual elements of what our sound may be, and give each of them their own space to shine", calling it "a deconstructed Evanescence."[12] In an interview in June 2020, Amy said:[13]
"I want this album to show all of our sides, really, but most importantly I want to create without thinking too much about what I want it to be, and just let it be what it is. There's definitely a little bit of a 90s, grungy alternative thing emerging which is lovely, that's a return to roots for me in the most honest sense since that's the music that inspired me so much in my formative years."
In late June, she discussed the album and added that at least one song is old, dating back to the early Evanescence album sessions a decade ago:[14]
"It's going to be a journey. One of the songs we've recorded so far is from 10 years ago, from the first time we went in to record our third album. Completely reformed into a special new thing. Up to now, some of the songs are being written now, some aren't even written yet. And so much has happened this year, there's so much to say. So yes there are themes, but I think the biggest one is about time. Past, present, and future all at once. And part of that has to do with how the album is still a living, growing thing, as it is being slowly released. Like life."
On Kerrang!'s cover story in September, Amy stated "it's a rock record. We wanted to showcase the strength, fun and power of the band. There's no holding back. It's heavy sonically, and it feels good to go heavy. Really good. But it's not heavy for heavy's sake." Although as of September 9, 2020 three singles were released, she pointed out that "we haven't heard all the sounds of the album yet", promising songs with "score-like drama" and "aggressive power".[15]
Singles
Recording
The album was recorded in sessions throughout 2020.[16] The first sessions took place at Nick Raskulinecz's studio in Nashville, TN from January 20 to February 5, where the band recorded the first four songs for the album.[17]
No orchestra was recorded for some of the new songs,[11] and electronics (synthesizers, arpeggiators and sound effects) were used instead.[18]
Due to the coronavirus pandemic, the band worked remotely, sending ideas to each other. By June, Amy said they were trying to figure out how they could get together to finish the album.[14]
While working at her home studio during lockdown, Amy told in an interview that the new songs usually start sounding "much more electronic than it does in the end and then we turn it into a rock song together, but sometimes some of those parts stay".[19]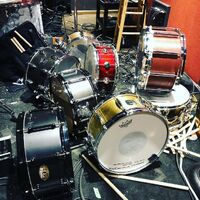 On August 10, producer Nick announced on his Instagram that Will Hunt tracked 9 songs for the album.[20] As written on a drum snare, the session was named "Evanescence Bitter Pill Sessions" and it also revealed the date 7-20-2020 and two song titles: "Better Without You" and "Take Cover". His post was later taken down.
On August 14, Amy revealed in a IG live interview that the band resumed recording at Nick's studio. For that they were brought by tour buses and had to be tested for COVID-19, which they all tested negative. However, Jen who lives and remains in Germany had to work remotely with the band.[21] On the 21st, Amy said that they spent over a month in the studio, and the band finished their parts and went home. She was still finishing lyrics and working on keyboards and programming.[22] She added that no strings were recorded for the album, but they might have songs which they feel they need "a little string section".
It was revealed on a Zoom call during the premiere of "Use My Voice" that Nick will handle the production of the whole album, instead of the band working with different producers as originally planned.
During a Q&A held on the band's Facebook page on September 1, Amy said she was still writing lyrics to songs that already have drums and guitars recorded. She also mentioned that some of the new songs were written during the creation of their self-titled third album that "didn't get finished or was a piece that didn't fit that puzzle"; however, they were finished out and were looked at with a new perspective 10 years later.[23]
On September 9, Amy said the album was nearing completion, with "seventy per cent" done. She added: "It's hard to say because I'm still writing."[15]
On September 30, the band posted a 25-second Instagram story showing Amy recording a new song on the piano. On October 17, they posted a 13-second Instagram story of Troy tracking guitar, later revealed to be "Broken Pieces Shine".
Amy said in an interview on October 29 that the album is nearly finished, but stated she can't set a official release date when she's still working on lyrics. She added the album will be finished in 2020, but it may be released in early 2021.[24]
She told FaceCulture on November 3 that she was deciding which order the songs would run in the album and was listening to it as a whole in order to see the "journey of the stories."[25] She added she was putting the finishing touches to the songs, doing "a little bit of orchestration and some more programming happening in some cool spots."
On November 19, the band shared a Instagram story of an orchestra being recorded for the album. The album was finished that month.[26]
The album was mastered in early December 2020.[27]
Amy Lee on the final recording sessions and finishing the album:[28]
"The energy was just amped," Lee says. "We were in there on fire. Now, the guys are back at their homes, and I am wading through the aftermath of all the music, piecing it together and finalizing the record." In some ways, she says, lockdown has been a blessing: "The upside of this time is that I've had to buckle down and focus. Even on the days that I don't want to, I come out here and I go, 'Let's do this. Let's finish the album.'"
The album has three outtakes that are unfinished, but have "full structures" and band parts laid down.[29] "I never want to put something out just because we have it, I want it to be really great and stand up to everything else we've done, but we'll see what gets finished. But I'm sure that at least a couple of them will be finished."
In a interview with a French fansite, Tim revealed the band recorded a song he wrote about his daughter's passing, but it didn't make the cut because it didn't fit the purpose of the album:[30] "There are other songs that we wrote, that are not on the album because some of them were too close to Amy, to me, and it didn't fit the purpose of the album."
Artwork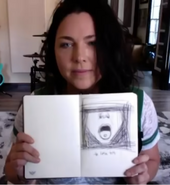 On April 17, 2020, the band revealed the cover artwork via social media.[1] The photograph was taken by Amy's husband, Josh Hartzler.[31] The cover depicts Amy's face with her mouth open and her tongue stuck out to reveal a pill with Xs and a dash drawn in the shape of a face. The album title comes from a line on "Wasted on You."[32]
When asked why the album is called what it is, Amy said:
Even though the truth can be incredibly difficult and painful, it's still better than living a lie.[33]
She told AltPress in October:
The title of our album [is] The Bitter Truth. What I crave more than anything is just the truth. The truth can be ugly, but it's better than a beautiful lie. We need to be able to know what is real.[34]
She told Forbes in March 2021:
A lot of this album is about face the truth, face the bitter truths of our world and of my life and of heart. Whatever the cost of that might be on the inside. So then we can start talking about climbing out. Then we can start talking about getting to a better place. You can't appreciate the beauty of life, you can't fully experience all the good moments in life if you don't also fully experience the challenging ones, the tough ones, the painful ones.[35]
Release
The album was announced on April 17, 2020 with no release date set as the plan was to release one song at a time while the album was in the works.[1] Amy considered releasing it "in a different way" back in 2019.[6] On August 21, 2020 Amy explained why the band decided to release it differently:
"We don't have a release date, but I like to look at it like it's happening now. The idea behind this whole thing was always to go one song at a time, release it in real time with the fans while it's still going on and it's still fresh and live in the moment more. So, in my mind it is being released. This is part of it. We live in a new world where it's not all about just dropping a big pile of music all at once. People don't always consume music that way. I don't.
I still want to make an album – that's a part of who we are and I think that's important to our fans, so we're doing that. We will drop the back half or whatever soon, but I don't have a date because I never want to put a date down when I'm still writing. I don't want to get to the end and say, 'Eh anything. Just throw some words down.' I can't do that. It has to be right. Sometimes it takes a minute."[22]
A fake tracklist appeared on Twitter on October 17, but Amy refuted the rumors on Twitter the following day.[36] She hinted at a early 2021 release date in an interview with Loudwire.[24] On November 19, she said the band is deciding the release date, but she thinks "it's going to be in March [2021]."[37]
On the album's pre-order on New Zealand's Apple Music on December 4, it was revealed the album will be released on March 26, 2021 and contain 12 tracks.[38]
The album is available to pre-order as of December 5, 2020 as digital download, CD, vinyl, and a limited deluxe fan box set containing a bonus CD with their HeadCount livestream show (which also includes a cover of The Beatles's "Across the Universe"), Amy's journal, "Use My Voice" poster, and a cassette tape with exclusive audio and music from the making of The Bitter Truth.[39] The pre-order automatically came with downloads of already-released songs.
The Japanese edition of the album includes two bonus tracks and a bonus DVD with studio documentary and the making of the "Use My Voice" video.
Amy counts The Bitter Truth as the band's fourth album, and not 2017's Synthesis, but it's the fifth album overall official releases.[40]
The album leaked on March 11, 2021, 15 days before its release.
Singles and music videos
The album's first single, "Wasted On You", was released on April 24.[1] The second single, "The Game is Over", was released on July 1. Both had accompanying music videos directed by P.R. Brown that were shot during COVID-19 lockdown by the band themselves. The third single, "Use My Voice", was released on August 14 and was originally intended as the first single, with its video directed by Eric D. Howell. The fourth single, "Yeah Right", was released on December 4 as an instant grab on the album's pre-order.[41] These were the first batch of songs the band recorded in early 2020.
The fifth single, "Better Without You", was released on March 5, 2021 as the last single in advance of the album. The song touches upon Amy Lee's journey and struggles in the music industry. A music video was shot in late March. It was released on April 16.
Track listing
Japanese and Target edition bonus tracks
Credits
Evanescence
Musicians
Technical
Artwork and visual
References