Alica123

Name, Gender

Alica, female

Age

16

Favourite Bands

Evanescence, Nightwish, 30 Seconds To Mars, etc.

Favourite TV show

too many...

Twitter

alicasaccount

YouTube

Alica53

Tumblr

ColdSurrender

Favourite Books

Inheritance Cycle, Lord Of The Rings Trilogy, The Mortal Instruments series and way too many more to list

Favourite movies

Lord Of The Rings Movies

Favorite Writer

J.R.R. Tolkien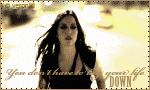 Heyhooo. :)


My name's Alica. I'm 16, and I live in Europe.
I designed the complete main page on here and created multiple templates. I also edited/created some images on Photoshop, like our wordmark (the thing that says "Evanescence Wiki" on the upper left), as well as bringing this wiki back to life. When I first visited it, it was nothing but a small troll page with no one taking care of it.
If you need any help with coding (or anything, really), feel free to ask.

Evanescence
I'm a gigantic Evanescence fan ever since I've heard them for the first time in early 2011. My favourite album by them is The Open Door, though I love them all. I adopted this wiki (when I randomly tripped over it it was a troll place with gibberish and nothing even close to a real wiki) in around August 2011, and ever since then have watched over it along with later joiners that were promoted to administrators, New Captain and Magicboots (whom I already know from a different wiki).

Music
I'm a fan of Rock and Metal (as long as it isn't too heavy). I adore many bands, a few of my favourites being Evanescence , Nightwish, Within Temptation, Shinedown and Three Days Grace.