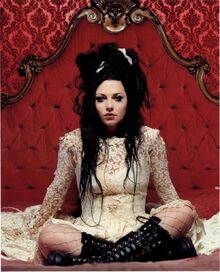 "In this short life, there's no time to waste on giving up."
―Lacrymosa
Hi everyone ! Thanks for visiting my page!
This is my Evanescence wiki page. If you see me on another wiki, my page there will pertain to my interests on the subject of that wiki. Or it will be blank, who knows!
Mostly I improve the wording, grammar, or punctuation in articles, but sometimes add facts that most people might overlook, but are still important.
Here's a little bit about myself, Evanescence-wise.
I have been an Evanescence fan since 2011, right after their self-titled album was released. Since then, I have amassed a collection of over 10,000 pictures released by Evanescence over the years, as well as every song released, including alternate demo versions. I believe my song count is close to 150 now. I also have Amy Lee's solo work. I play the piano, and have sheet music, some of which I wrote myself, for almost every song up until the new Synthesis album release. I was one of the first people to pre-order the complete vinyl set, and received an autographed poster because of it. I also have an autographed picture of Amy Lee that I received as a gift. I used to be on the Evanescence wiki years ago on a previous account.

This is my signature: wavesofselene(talk)
My Blogs:
Edit
Community content is available under
CC-BY-SA
unless otherwise noted.